HT16K33SegmentGen
This is a hardware driver for 'raw' HT16K33 chips and segment LEDs. The driver communicates using I²C.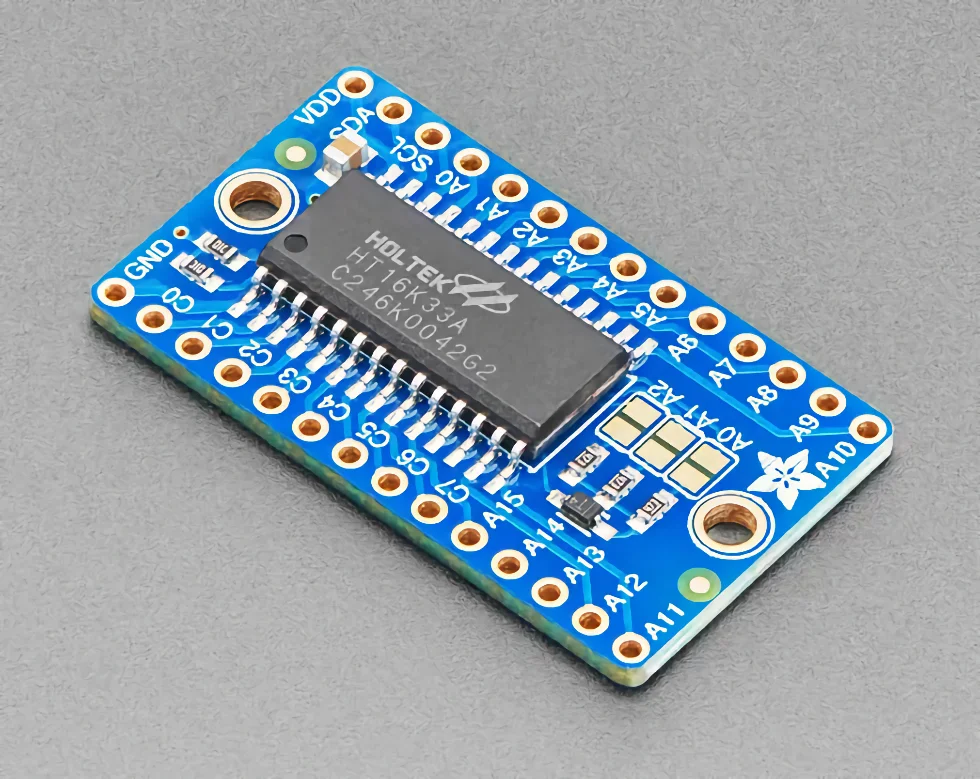 Attention
This functionality requires version 3.5.0 of the HT16K33 library.
Importing the Driver
The driver comprises a parent generic HT16K33 driver and a child driver for the display itself. All your code needs to do is import the latter:
from

 

ht16k33segmentgen

 

import

 

HT16K33SegmentGen



You can then instantiate the driver.
You will need both the display driver file and ht16k33.py in your project folder.
Characters
The class incorporates its own (limited) character set, accessed through the following codes:
Digits 0 through 9: codes 0 through 9

Characters A through F: codes 10 through 15

Space character: code 16

Minus character: code 17

Degree character: code 18
Display Digits
You can use as many digits as you wish, up to a maximum of eight. The digits are numbered 0 to 7, from left to right. You may use an odd number of digits.
Method Chaining
Most methods return a reference to the driver instance (self) to allow method chaining with dot syntax:
Class Constructor
class

HT16K33SegmentGen

(

i2C_bus

,

i2c_address

=

0x70

,

digits

=

8

)



To instantiate an HT16K33SegmentGen object pass the I²C bus to which the display is connected and, optionally, its I²C address if you have changed the display's address using the solder pads on rear of the LED's circuit board. You may also pass the number of digits in your setup (1-8).

The passed I²C bus must be configured before the HT16K33SegmentGen object is created.

Parameters

i2c_bus (I²C bus object) – The I²C bus to which the display is connected.

i2c_address (Integer) – An optional I²C address. Default: 0x70.

digits – The number of digits in your display. Default: 8.
Examples
# MicroPython




from

 

ht16k33segmentgen

 

import

 

HT16K33SegmentGen




from

 

machine

 

import

 

I2C





# Update the pin values for your board




DEVICE_I2C_SCL_PIN

 

=

 

5




DEVICE_I2C_SDA_PIN

 

=

 

4





i2c

 

=

 

I2C

(

scl

=

Pin

(

DEVICE_I2C_SCL_PIN

),

 

sda

=

Pin

(

DEVICE_I2C_SDA_PIN

))




led

 

=

 

HT16K33SegmentGen

(

i2c

,

 

digits

=

4

)



Class Methods
Example
# Turn down the display brightness




led

.

set_brightness

(

1

)



Example
# Flash the LED every second




display

.

set_blink_rate

(

1

)



Example
# Present error 2 -> 'Err2'




led

.

set_character

(

"E"

,

 

0

)

.

set_glyph

(

0x50

,

 

1

)




led

.

set_glyph

(

0x50

,

 

2

)

.

set_number

(

2

,

 

3

)

.

draw

()





# Flip message upside down




led

.

rotate

()

.

draw

()



Example
# Set the display to --:--




led

.

set_character

(

"-"

,

 

0

)

.

set_character

(

"-"

,

 

1

)

.

set_character

(

"-"

,

 

2

)

.

set_character

(

"-"

,

 

3

)




led

.

set_colon

()

.

draw

()



Example
# Display 'bEEF' on the LED




led

.

set_character

(

"b"

,

 

0

)

.

set_character

(

"e"

,

 

1

)




led

.

set_character

(

"e"

,

 

2

)

.

set_character

(

"f"

,

 

3

)

.

draw

()



Example
# Clear the display




led

.

clear

()

.

draw

()