HT16K33Segment
This is a hardware driver for the Adafruit 0.56-inch 4-digit, 7-segment LED display, which is based on the Holtek HT16K33 controller. The driver communicates using I²C.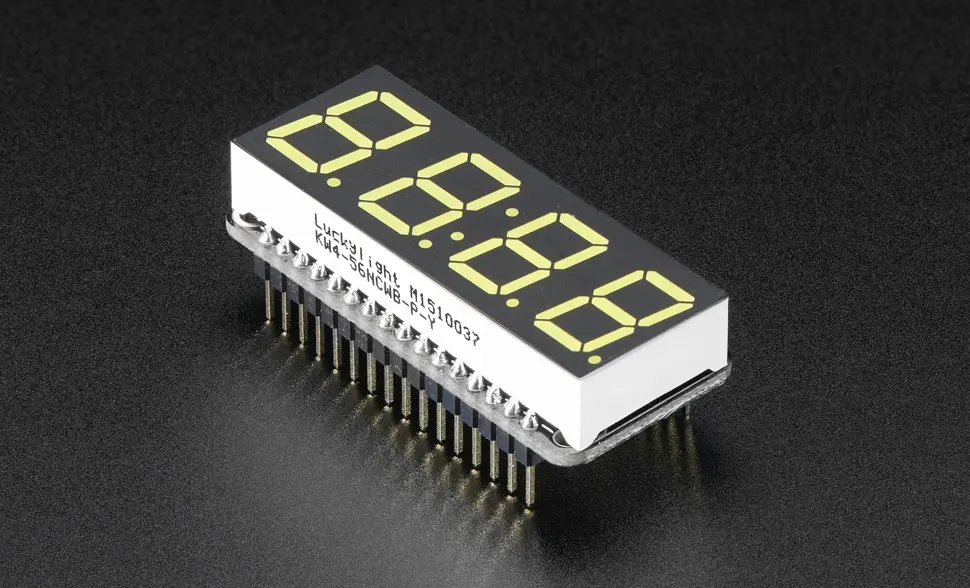 Importing the Driver
The driver comprises a parent generic HT16K33 driver and a child driver for the 7-segment display itself. All your code needs to do is import the latter:
from

 

ht16k33segment

 

import

 

HT16K33Segment



You can then instantiate the driver.
You will need both the display driver file and ht16k33.py in your project folder.
Characters
The class incorporates its own (limited) character set, accessed through the following codes:
Digits 0 through 9: codes 0 through 9

Characters A through F: codes 10 through 15

Space character: code 16

Minus character: code 17

Degree character: code 18
Display Digits
The display's digits are numbered 0 to 3, from left to right.
Method Chaining
Most methods return a reference to the driver instance (self) to allow method chaining with dot syntax:
Class Constructor
class

HT16K33Segment

(

i2C_bus

,

i2c_address

=

0x70

)



To instantiate an HT16K33Segment object pass the I²C bus to which the display is connected and, optionally, its I²C address if you have changed the display's address using the solder pads on rear of the LED's circuit board.

The passed I²C bus must be configured before the HT16K33Segment object is created.

Parameters

:

i2c_bus (I²C bus object) – The I²C bus to which the display is connected.

i2c_address (Integer) – An optional I²C address. Default: 0x70.
Examples
# MicroPython




from

 

ht16k33segment

 

import

 

HT16K33Segment




from

 

machine

 

import

 

I2C





# Update the pin values for your board




DEVICE_I2C_SCL_PIN

 

=

 

5




DEVICE_I2C_SDA_PIN

 

=

 

4





i2c

 

=

 

I2C

(

scl

=

Pin

(

DEVICE_I2C_SCL_PIN

),

 

sda

=

Pin

(

DEVICE_I2C_SDA_PIN

))




led

 

=

 

HT16K33Segment

(

i2c

)



# CircuitPython




from

 

ht16k33segment

 

import

 

HT16K33Segment




import

 

busio




import

 

board





i2c

 

=

 

busio

.

I2C

(

board

.

SCL

,

 

board

.

SDA

)




while

 

not

 

i2c

.

try_lock

():


    

pass




led

 

=

 

HT16K33Segment

(

i2c

)



Class Methods
Example
# Turn down the display brightness




led

.

set_brightness

(

1

)



Example
# Blink the display every second




led

.

set_blink_rate

(

1

)



Example
# Set the display to --:--




led

.

set_char

(

"-"

,

 

0

)

.

set_char

(

"-"

,

 

1

)

.

set_char

(

"-"

,

 

2

)

.

set_char

(

"-"

,

 

3

)




led

.

set_colon

()

.

draw

()



Example
# Present error 2 -> 'Err2'




led

.

set_character

(

"E"

,

 

0

)

.

set_glyph

(

0x50

,

 

1

)




led

.

set_glyph

(

0x50

,

 

2

)

.

set_number

(

2

,

 

3

)

.

draw

()





# Flip message upside down




led

.

rotate

()

.

draw

()



Example
# Set the display to --:--




led

.

set_character

(

"-"

,

 

0

)

.

set_character

(

"-"

,

 

1

)

.

set_character

(

"-"

,

 

2

)

.

set_character

(

"-"

,

 

3

)




led

.

set_colon

()

.

draw

()



Example
# Display 'bEEF' on the LED




led

.

set_character

(

"b"

,

 

0

)

.

set_character

(

"e"

,

 

1

)




led

.

set_character

(

"e"

,

 

2

)

.

set_character

(

"f"

,

 

3

)

.

draw

()



Example
# Clear the display




led

.

clear

()

.

draw

()